Greetings one and all,
I am pleased to announce that this month I have moved into a new space at Golden Belt Studios in Durham, NC. I am looking forward to seeing what comes of this social and arts experiment. I hope to produce new work in a space surrounded by friends and artists, and to share work, both new and old, with the public. I am very excited to take part in my first 3rd Friday art walk. My friends Warren Hicks, Heather Gordon and Ben Bridgers will all be here in their studios, and taking over the building will be Rachel Herrick and her great "Northern Obeast" project. To inaugurate this space I have pulled out a large selection of work from my project "Blink of an Eye" to showcase. Large parts of this have been exhibited around the country, but never in one single chunk.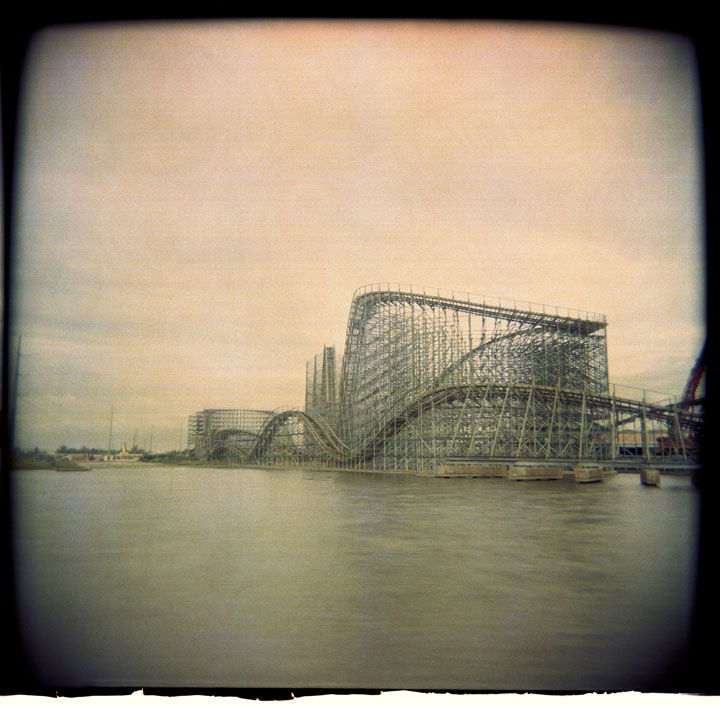 blink of an eye - a very short time (as the time it takes the eye to blink or the heart to beat); - an indefinitely short time.

Blink of an eye, and it's gone.
This body of work examines moments and places we can often take for granted - those we think will always be around, and then, in the blink of an eye, can be gone.

This project is my personal response to the events surrounding both 9.11 and Hurricane Katrina. Having been saturated with images of destruction, the intent in "Blink of an Eye" is to examine a more psychological and emotional response to a sense of loss, dislocation and isolation. I have used toy cameras and the soft, gauzy look they provide in order to create images depicting more of a sense of nostalgia, tinged with sentimentality and even optimism.

I feel that this notion of loss can be applied to physical objects such as buildings or cities, but also to more ephemeral concepts such as summertime, mortality and youth. My photographs reflect these recurring themes through iconic childhood and leisure-time subjects such as playgrounds, carnivals and midways, such as the final days of Coney Island, quiet moments, and off-season vignettes. By occasionally using double exposures and image sequences arranged out of order I also want to cause a sense of discomfort and disruption.