Thanks to Michael Pannier for hosting my exhibition at his very fine new space. And thanks to all who have contributed to this project and came out for the opening.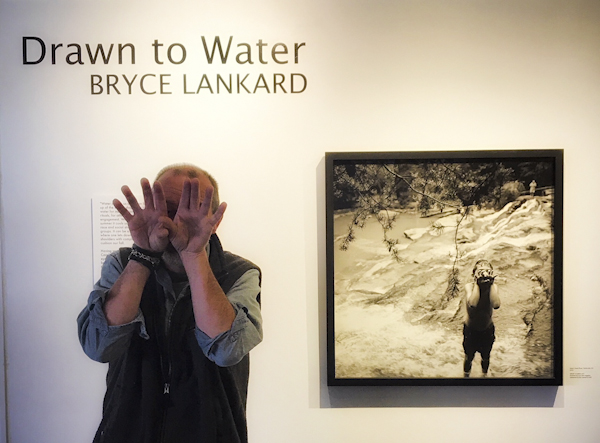 I am pleased to be adding first person accounts of special relationships with bodies of water. Thanks to all who have allowed me to use their thoughts and words. They say it so much better than I ever could.
I was born of water. Baptized in the sea and salt of the Atlantic Coast. Even now, walking a city's streets, I can hear the ocean pulsing in my left ear.
Summer days, at our tiny cottage on Wrightsville Beach, my mother would lean into the screen door, and my brothers and I would empty out into sunlight. I was only eight or nine, but the beach, with the ocean on one side and the sound on the other, was an enchanted playground. We were taught to swim within our limits, and always to respect the water.
Down from our street was Johnnie Mercer's Pier, where you could buy an orange sherbet push-up or a frozen candy bar for five cents. Sometimes the fishermen would catch a mako shark off the deepest pilings, and "gaffers" would drag the creature to shore, its carcass usually ten times or more my size.
Those were the days—yes, privileged times—when I ran fleet of foot by the surf with my gull-chasing dog. When I waited on the porch each afternoon for my father to come home from work so we could swim together before supper.
My love of being on the water began on a small island in North Carolina and has traveled with me all my life—to the Pacific Ocean on both sides of the equator, to the Black Sea, to the rivers and lakes of Upstate New York. Today, I am happiest and most free when I am paddling my kayak quietly on an Adirondack flow. I know that I am just a small part of a vast ecology—no more important than any smallmouth bass, or yellow birch, or great blue heron. Yet able to plead in words: We must protect our waterways and our wild places for generations to come. We must make sure that young people can navigate a clean and healthy planet, that they will have vibrant oceans, rivers, and lakes to teach them their place in the natural order and to fill them with wonder.
Kristin V. Rehder
August 28, 2017